"Thunder" by Bonnie Calhoun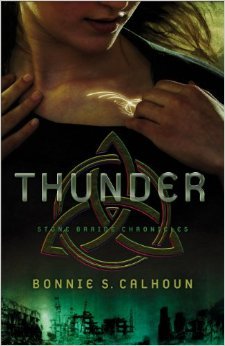 "Thunder" by Bonnie Calhoun is a "Christian" dystopian novel. It is about Selah and Bodhi (a Lander don't ask me what a lander is I am still confused by it) and their romance/fight for life. It starts with Selah as trying to be a hunter of Lander's but finds herself getting into more trouble than she thought when she ended up helping Bodhi. For most of the book I could not get into it and then about half way through it the book finally picked up for me. I still did not like it and I just don't know why it was just one of those books that I did not enjoy. Maybe for me is there were things in it that just struck me as odd or out of place for a Christian novel like noticing peoples aura's or the ability to read minds. To me there were just a lot of little side stories that needed some explanation that I just was not getting. Also the main point of this book to me seemed be a romance between Selah and Bodhi which is not why I picked this book. Oh well depending the person feeling on this type of genre I would say it could or could be a good read. I know very flighty on thoughts on this book I just could not get into and I usually like dystopian type novels.
I was given this book by Revell a division of Baker Publishing Group for my honest review.