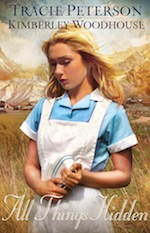 Summary
All Things Hidden by Tracie Peterson is one of the newest books by
Traci
e Peterson
. It takes place mainly in 1930's Alaska but also in Chicago. Are two hero's in the book are a young woman named Gwyn Hillerman and a upstart Doctor Jeremiah Vaughan. We find at the beginning Gwyn in Alaska helping her father who is a doctor and Jeremiah losing his medical license and finance all in the same day. The past of Jeremiah and another person in the village will come to haunt and harm the couple as they become friends and of course as their love blossoms.
My Opinion
First off I don't remember requesting this book as too me it seemed to be like a lot of books I have read. And I was right its the typical Christian Romance Historical Fiction style of someone has something bad happen/heart broken then they travel to a rural area where someone else is fighting with issues. They meet up but wait some other type of mystery is going on in this rural area and the couple fall in love and solve the mystery. Yes I am being cynical but seriously as soon as I started reading it I knew what was going to happen. Back to "All Things Hidden" Gwyn's actually from a very wealthy Chicago family but her and her father Dr. Hillerman live in Alaska which we have to remember at this time Alaska is still a colony not a state. While Dr. Jeremiah has lost his medical license and his finance (who happens to be Gwyn's spoiled little sister) decides to take up Dr. Hillerman offer to help him in Alaska. I admit I did like the characters of Gwyn and her father the kindness, the Love of Christ they have, and the strongness of character. While Jeremiah's character to me was almost wimpy to me, he got on my nerves. We also have the side story of the bad guy which I will not write the name otherwise it gives away the story which does add a little more excitement in the story. I do wish we would have seen a little more of Gwyn's mother and sister the little bit we get is we know they are both spoiled very rich and unbelieving women. This book was just not my style of book. If you are a fan of this style of book then go for it is a decent book for its style.
I received this book from Bethany House Publishing for my honest review.