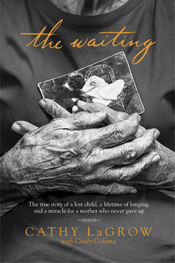 "The Waiting: The true story of a lost child, a lifetime of longing, and a miracle for a mother who never gave up" by Cathy LaGrow with Cindy Coloma. This is one of the most powerful books I have ever read. It is a true story about this wonderful (who I would love to meet) woman name Minka finding her daughter after 77 years. She was raped when she was just 16 years old in 1928 and she gave up her daughter, Betty Jane, to adoption praying that her little girl would have a good life. Well when she gave her up, she did not give her up in her heart. She constantly wrote letters to her until the birth of her 2nd with her husband Roy in 1947. Most of the book is about Minka and her life from a little bit from childhood, the rape all the way to today. Yes, I said today as of today she is still alive, yes she was born in 1911. An amazing and strong woman! We find her meeting her husband Roy, with him coming home from World War 2 with PTSD. Her close friendship with her younger sister Jane. Her having their two children with Roy but also his alcoholism affecting their family in bad ways. Even through all this she stays strong in her faith and keeps in her heart the love and memory of her daughter Betty Jane whom she still loves very much. The last section of the book we learn about Betty Jane's, renamed by her adoptive family Ruth. Minka did know that Ruth was adopted by Pastor and his wife which turned out to be a big blessing for that family and Ruth. Ruth was blessed with a very loving family. In high school she met and fell in love with her future husband Charles. Ruth and Charles ended up having six children. Minka one day decided when she did her praying for
Betty Jane/Ruth she decided to ask God to help her find her. What she did not know was that her daughter was looking for her with the help of Ruth's son Brian. Minka's daughter and her grandkids did not know about her long lost daughter. But Minka and her complete family now was reunited. Once Minka was reunited with Betty Jane/Ruth she was able to finally forgive her rapist even though she had put him out of her mind for years.
I will say this was one of the most powerful books I have read. The story Minka and Betty Jane/Ruth is very powerful and started to make me cry. We have a tendency in this pro-abortion culture to forget that there many woman out there that have been raped but still loved their children that came from that rape. This was a powerful story that needed to be told. I am so thankfully to Cathy LaGrow (who happens to be one of Minka's Granddaughters) for writing her Grandmother's and her Aunt Ruth's story. This is one book I do not plan on ever getting rid of. You can buy here at http://www.amazon.com/The-Waiting-Lifetime-Longing-Miracle/dp/1414391900 and please do buy it.
I was given this book by Tyndale Publishers for my honest review and was not required to give a positive review.