Five Brides by Eva Marie Everson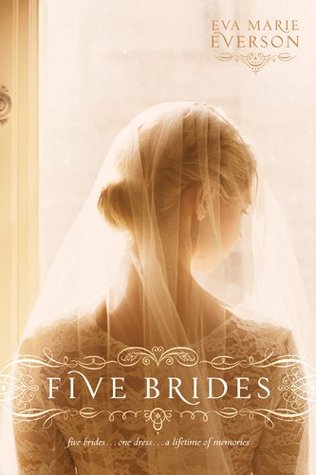 "Five Brides" by Eva Marie Everson is about 5 women roommates who become the closest of friends to the point of deciding to buy one high end wedding gown to share even though none of them is engaged to be married. I know for me to purposely choose to read and review a romance is odd. But this one sounded very different than the typical Christian romance novels and it was. It starts with the one of the ladies Granddaughter getting ready to be married in the dress (the original story takes place in the 50's). Then it goes into the telling of how the met and into the bulk of the story. Each of the ladies (Evelyn, Betty, Joan, Magda, and Inga) are very different in personality and backgrounds except Magda and Ingo who are sisters. The difference in the ladies adds so much to the story. It did not go the typical route I was expecting it to go which was very nice. The book wasn't so much about each women's trip to love but more about the women growing and getting to know each other and themselves better. I enjoyed each of the women's stories but I think I enjoyed Betty's and Evelyn's were my favorite well Joan's at the end I really go into. I felt bad and happy for each of the ladies. I would love and hate to see this book turned into a movie as it would make a beautiful story but modern Hollywood would make it into a sex story which it wasn't at all. This author has a way to take a story that could be the typical love story and turn it into a more developed story than just love. I highly recommend this book even if you are not a big fan of romance novels which I am not a fan of.
I was given this book from Tyndale Publishers and was not required to give a positive review.