"Dear Son" By Dave Bruskas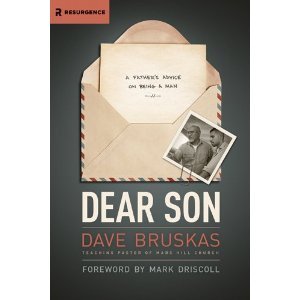 "Dear Son" by Dave Bruskas is a book meant for young unmarried men each chapter starts with a letter to the author's son who died in infancy then speech on manhood. I did not enjoy this book, I will admit at times it was interesting but overall not for me. Yes I know I am not the target audience of this book but even for men its not that good. It is advice book with some scripture thrown in it. Most of the book seemed to me a like do this and you will be the best parent/husband out there (Yes I know the author mentions that we can't be perfect but he sure made me feel like we should be). The section that annoyed me the most was when he was talking about work, he talks about jobs that in his opinion can't support a family. For example he mentions theater managers, retail associates, etc, those positions depending on the area can easily support a family maybe not in this author's area but in other areas they can. Then another section he discussing how a preacher he has listened to extensively does not repent of any of his sins publicly then goes on to discuss this preachers former members that have moved. He then says that they are great doctrinally but proudly self-righteous like their leader, well if that is such a problem why does he listen to the preacher. I just cannot recommend this book.
I was given this book by Tyndale Publishers for my honest review.