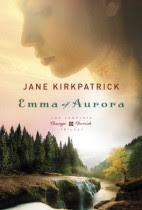 Summary
Emma of Aurora by Jane Kirkpatrick is all three books in the Change Cherish Trilogy in an all in one format. Here is a link to be able to read the
first chapter
. The 1st book in the series "A Clearing in the Wind" is about Emma an outspoken young woman in a Missouri Colony of very legalistic religious people. We find her marrying and travel with her new husband Christian to the Oregon Territory and also having children. In book two "A Tendering in the Storm" we find Emma with 2 children and one on the way. After a tragic loss we find her struggling to keep her little family together as she makes a decision that changes her life and the life of her children. All the while the religious community that she is from is not sure on how to deal with her as she does not bend to their will. In book three "A Mending at the Edge" we find Emma in Aurora, Oregon estranged from her husband and trying to come to terms on how to live in her very restrictive religious group she is from and who are the founders of Aurora. As the complete series in one book format you don't have to wait for the next book to arrive.
My thoughts
I personally was excited to read this book, I am a big Jane Kirkpatrick fan and to have one of her book series in one volume was exciting to me. If you don't know the author
Jane Kirkpatrick
then you are missing a good author who in some of her books takes real people from history and molds a story that fits around their true events in a fiction novel. That is exactly what she did with the book series Emma of Aurora. Emma was a real women who belong to the religious sect of Dr. William Keil who founded the town of Aurora, Oregon. This was a wonderful book I have to admit having all three volumes in one was intimidating since the book is over 1000 pages but don't let that stop you, as I could not put it down once I started reading it. I admit that book is slow at times but then I remember the time frame it takes place in and not everything was the same as it is today. I love historical fiction when its basis is not a romance novel and this one was not. Yes there was romance but the books main thought is what happens to Emma and even the community of Aurora. If you have a chance to read this one read it, at least for me it was very rewarding.
I received this book for free from Blogging for Books by Waterbrook Press for my honest review.