You Can't Text A Tough Conversation by Mike Bechtle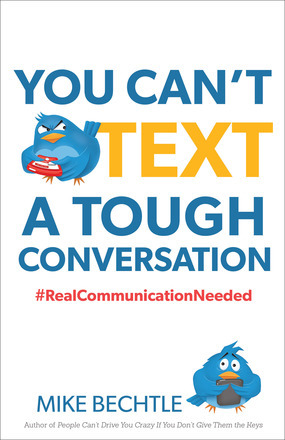 "You Can't Text A Tough Conversation" by Mike Bechtle is a book about real conversations not just a quick texting type relationships. I was not sure what to expect with this book. I was interested to see if the author was going to do like some people do which is paint new technology with its all bad brush. He does not do this at all he shows and talks about how we need to have a healthy respect for technology ie phones and social media, etc. One of the points I really liked was his reminder that when we write something on the Internet we need to remember would we say these things to the person if they were right in front of us. Also I liked how he reminds us that an in person conversation will be better to understand what person meant with their comments than a text or facebook post. As those do not show angry or misunderstanding in their weird like a in person conversation can clarify our conversation. It was a hard book for me to read for some reason but that was me. I still recommend it as it was a good book on remembering to focus on people in person more than just on a screen.
I was given this book Revell a division of Baker Publishing Group for my honest review and was not required to give a positive review.