"Welcome To Hidden Springs-Murder At The Courthouse" by A.H. Gabhart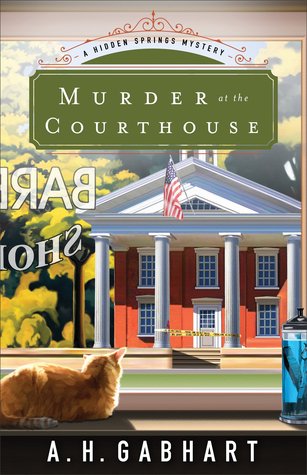 "Murder at the Courthouse" by A.H. Gabhart is a murder mystery novel that is the first in the Hidden Springs Mystery novel series. It takes place in a very small little sleepy town which turns out not to be so sleepy when a murder happens on the steps of the courthouse. The deputy sheriff Michael Keane was looking forward to being a police officer in a quiet nothing happening town and that is not what he gets. Since this is a mystery and I don't want to give away any of the story I am going to be very vague on this review. I really thought the characters were well developed except I kinda wish there was more on the nosy older woman that it starts with maybe we will see more of her in the next book. I have to admit as I was reading this book I kept visualizing Mayberry since that is what I first thought of when I read a small southern town. I really liked how the author does not make small towns out to be these little perfect towns they are so not perfect. This was good overall murder mystery and I highly recommend it.
I was given this book from Revell a division of Baker Publishing Group and was not required to give a positive review.