Heart Wide Open By Shellie Rushing Tomlinson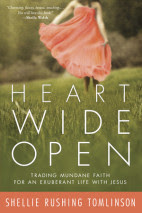 "
Heart Wide Open
" by Shellie Rushing Tomlinson is written to women that may have not led the bad girl life and their faith is boring to them. This book started slow for me but did encourage me to pursue my love of Christ even more than I do now. However I got to about the middle of the book and I stopped in my tracks. If you have read my reviews before you know it can take a lot for me to stop in a middle of a book. Well the author starting talking about when she was a little girl that she would hold seances like she seen in the movies. Ok that caught me off guard but I thought well she will bring up that they are against God. Well she did not she even went into details on how they held them. Then what really made me upset was that she compared her prayer life to a seance. Quote " Best case scenario-meaning that which was most conductive to a successful seance-none of my family members were home when I reached out to the heavenly throne. Many scriptures talk against contacting the dead see Deuteronomy 18:10-11 and Isaiah 8:19. I am sorry but I don't carry how bad your prayer life is right now we don't compare it to something that God hates. So I cannot recommend this book.
I received this book for free from WaterBrook Multnomah Publishing Group Blogging for Books for this review and was not required to give a positive review.